Table of Contents
Cyprus Roads and Highways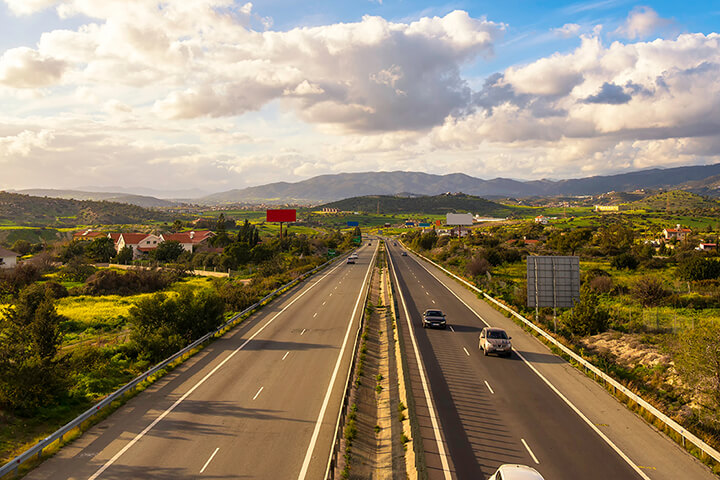 The first ever moving vehicle to be imported into Cyprus was a black steam engine or locomotive in 1892. The man that brought it to the island wanted to drive it from Larnaca to Nicosia, but the device was very unreliable and kept breaking down on the side of the road, letting off vast amounts of thick, black smoke.
Cyprus has come a long way since then in creating an excellent roads infrastructure, and the work is ongoing, with new upgrades and road constructions planned. Motorways (sometimes referred to as highways) mostly have four lanes, i.e., 2 per direction, while main roads/intercity roads mostly have two lanes, 1 per direction. However, there are a few exceptions.
Cyprus does have speed limits which are often ignored by locals. On motorways, the minimum speed is 65 Km, while the maximum is either 80km or 100 Km. Built-up areas have a maximum speed of 50 Km, but areas near schools, etc. are often 30 Km. Speed limits are set for the safety of all. Please do not ignore them.
The standard of driving in Cyprus is still inadequate, even though the authorities report improved driving standards. Road signs and traffic signals are still often ignored, and speeding is still a big problem, as well as drink driving and boy racers.
Traffic Fatalaties in Cyprus
However, Cyprus has seen a yearly reduction in road deaths and injuries.
Here are the official road fatality statistics for several recent years:
2008 – there were a total of 82 road deaths
2009 – there were 89 road deaths
2010 – there were 60 road deaths
2011 – there were 71 road deaths
2012 – there were 51 road deaths
2013 – there were 44 road deaths
2014 – there were 45 road deaths
2015 – there were 57 road deaths
2016 – there were 46 road deaths
And, proving that things are not getting any better:
2017 – there were 53 road deaths
Many foreigners adopt the attitude of 'when in Rome do as the Romans do'; however this exacerbates the problem, and will never solve it. Road deaths on this scale will continue until we all realize that speed, alcohol, and negligence kills.
Cyprus signed the European Road Safety Charter, the aim of which was to halve fatal road accidents by 2010. The 6-year Strategic Plan for Road Safety in Cyprus (2005-2010) did have a small effect on reducing road deaths, especially in under 25-year-olds.
A new Strategic Plan for the period 2011-2020 has commenced. The former Minister of Communications and Works and Chairman of the Road Safety Council Erato Kozakou Marcoullis declared 2011 as Year of Road Safety against driving under the influence of alcohol, with the motto "Driving and alcohol do not match: Say no to alcohol." However, it didn't have much effect as road deaths increased by 18% for 2011.
Obtaining a Drivers License in Cyprus
You must be 17 and a half years of age or older to obtain a provisional drivers license in Cyprus, and you must be accompanied by an experienced driver age 35 or older who has held a full driving license for at least five years. The same applies to provisional license holders aged 18. However, the accompanying person may be 25 years of age.
If you are moving to Cyprus and you have a UK provisional license you can now take driving lessons using your UK temporary license. After you have lived in Cyprus six months, you need to exchange your UK provisional license for a Cypriot provisional permit, before you can take the driving test.
Download free information (in pdf format, may not be compatible with mobile devices) about learning to drive in Cyprus. The information is provided free courtesy of a reputable British driving instructor who operates a driving school in Cyprus.
Cyprus Driving Laws
There are many road/traffic offenses incorporated into Cyprus law, too many to list here, but here are few that you may not have been aware of, and the corresponding penalty.
Smoking cigarettes in a private motor vehicle with a person under the age of sixteen in the car. – fine €85
Parking with the vehicle facing other than in the direction of traffic flow. This rule applies at any time day or night even if it is in a permitted parking place. – fine €85
A driver who is in an irregular position inside the vehicle or raises his hand from the steering wheel unnecessarily. – fine €25
Passengers not sitting in fixed seats, obstructing or interfering with the normal operation of the vehicle or is making signs or gestures that could be seen as traffic signals – fine €25
Unnecessary reversing – fine €25
Unnecessary use of horn in built-up areas – fine €25
Click here for more about Cyprus road traffic laws.
Vehicle Taxes
Road Tax is payable every year, in January. As of 2014, the new calculation of tax payable is by engine emissions, so those with higher emissions will pay more. You can pay for a full year, or for six months at a time.
As of 2015, a new law was passed whereas an extension while for paying road tax every year. Now the road tax must be paid by 9th March each year. Your car must have a valid MOT certificate before you can get road tax renewed.
You can renew your road tax at the road transport department's office, or any Citizen's Service Centre, at banks or financial institutions, or online at the Road Transport Departments Official Road tax license renewal website.
Vehicle Tags and Decals
Car tax discs or any other discs/stickers should not be displayed on the car windscreen as this can cause visual obstruction and the law now prohibits this practice.
Police can check their computerized system to tell whether or not your car has tax and insurance, without having to view your actual tax disc, but from observing your license plate number.
Read here the official letter from the Cyprus Police relating to displaying tax discs on windscreens.
All vehicles and motorbikes must have number plates. As of 1st October 2010, a new law allows Cyprus police to confiscate any car found with missing or unreadable number plates, whether the vehicle is moving or parked.
Major Roadways in Cyprus
The main motorways in Cyprus are:
A1 Nicosia – Limassol
A2 Nicosia – Larnaca
A3 Larnaca Airport – Ayia Napa
A5 Larnaca – Limassol
A6 Limassol – Paphos
A7 Paphos – Polis
A8 Limassol – Saittas
A9 Nicosia – Astromeritis
A22 Nicosia 3rd Ring road
Road Signs and Cameras
Road speed cameras used to be fitted around Cyprus with fines made on road traffic offenders, however, due to technical problems the cameras were removed. A new network of road speed cameras was to be in operation again around Cyprus during 2012, but this did not transpire.
The next announcement was those speed cameras will be operational again by the end of 2015, but this did not occur either.
As of November 2017, there is still no definite date for the installation of speed cameras.
Road signs are easy to identify, and reading them should be no problem due to them being written in Greek and English.
Mountain Roads
Roads leading up to the higher regions of Troodos mountains may be closed in winter due to snow or ice, often at such times only four-wheel drive vehicles or vehicles fitted with snow chains will be allowed to reach the highest parts.
---
Renting Cars and Taxis
The first ever car to be imported and driven in Cyprus was a two-seater red Peugeot on Saturday 8th December 1907, arriving by steamer to Larnaca port. Owned by 29-year-old Cypriot doctor Ioannis Pieris who drove the car for the three-and-a-half hour's journey, while attracting many onlookers.
Cyprus Driver Safety Rules
Driving in Cyprus is on the left side of the road. It is compulsory to wear seatbelts in Cyprus, even in the rear of the vehicle. Infants must be seated in child seats and children in booster seats fastened with a seat belt.
It is also compulsory for motorcyclists to wear crash helmets. It is illegal to use a mobile phone while driving (except with hands-free device), and there are strict laws against driving under the influence of alcohol or drugs.
The blood/alcohol level limit is 50 milligrams of alcohol per 100 milliliters of blood (0.5 grams per liter), and the BAC level limit (breath alcohol level) is 22 (or 0.22) microgrammes of alcohol per 100 milliliters of breath.
Since May 2015 the law was changed so that the alcohol level is lowered for specific categories, from 22 microgrammes of alcohol per 100 milliliters of breath to 9 microgrammes of alcohol per 100 milliliters of breath.
The driver classes included in the new law are:
Drivers under 25 years old
Motorcyclists
Truck drivers
Bus drivers
Taxi drivers
Vehicles carrying dangerous and heavy loads
There are speed limits on all motorways of minimum 65 Km and maximum 80km or 100Km, with built-up areas having a maximum speed limit of 50 Km, except in specific areas such as near schools, where the maximum is 30 Km.
Hiring a Car
There are plenty of hire car companies in Cyprus with many offering online booking. You can also arrange to have your hire car waiting for you at your arrival airport or port, or delivered to your hotel accommodation.
Prices for car-hire do vary, so it is best to check out several companies before making your final booking, as shopping around will enable you to find the best car-hire deal.
Also check on exactly what your insurance covers, be sure that you have Collision Damage Waiver (CDW). United Kingdom driving licenses are acceptable for car hire in Cyprus.
However, most car-hire companies require the driver to be minimum of 25 years of age. Anyone under that age wishing to hire a car must have held a clean driving license for at least three years. If hiring motorbikes, the minimum age is 20 years, but for buggies and quad bikes the minimum age is 25 years.
The standard and types of hire cars available is excellent. Any vehicles with more than seven seats must have a taxi license, and so you will not be able to hire a car with more than seven seats with a regular license. There are also numerous motorbike/moped hire companies in the tourist areas.
Most Cyprus car-hire companies charge for a full tank of petrol when you first collect the car. However, there is no refund for any unused gasoline at the end of the rental period.
Gas and Petrol Stations
There are many petrol station chains all around Cyprus; most are not open 24/7. However the majority now have vending machines for buying petrol, some accept cash notes only, whilst others also accept credit/debit cards.
Please be aware that many of these vending machines require your bank card to have a minimum of 60 euros in it, regardless of how much petrol you wish to purchase.
If your account does not have that amount, it will be rejected. The amount of 60 euros is temporarily blocked from your bank account.
After a few days, the correct amount that you purchased is debited from your account and the block of funds is removed.
Many of the larger petrol stations offer car wash facilities, tire pressure check, oil change, etc. during opening hours. Petrol stations close for half day on Tuesdays, but many auto-pay petrol pumps remain in operation.
Taxi Cabs
There are numerous taxi companies and individual taxi drivers throughout Cyprus. Taxis can be booked by phone, waved down on the street, or you will see plenty of available taxis at airport and port terminals.
It is common for taxi drivers to toot the horn at just about every pedestrian they pass in the hope of getting a fare. It is compulsory for taxis to use a government-approved tariff machine and to display their Taxi Driver ID number.
If you require a cab during significant holiday times such Easter or Christmas, you must book in advance as very few taxi drivers will be on the streets at these times.
Prices for private taxis are not cheap. However, there is a more affordable option in shared cabs (service taxis) or minibusses which are operated by related taxi companies.
However as this will be dropping other people off at different points, it will take longer than the standard taxi. All main towns are covered, but the operating times are somewhat limited.
Private taxi tariff prices increase for late night fares, and for Public Bank Holidays. Taxi drivers must by law have a table of charges in a prominent place in the taxi.
Bike-Sharing
There is also a network system of automated 3rd generation bike sharing which is similar to the ones used widely in major cities across the world.
The idea is that you can hire a bike from any one point and drop it off at any other point, it does not need to be returned to the same point of hire.
There is usually no attendant present as the whole process is done via vending machine, using your credit/debit card. You will find the bike sharing kiosks in most major cities and seaside areas.
---
Buses and Coaches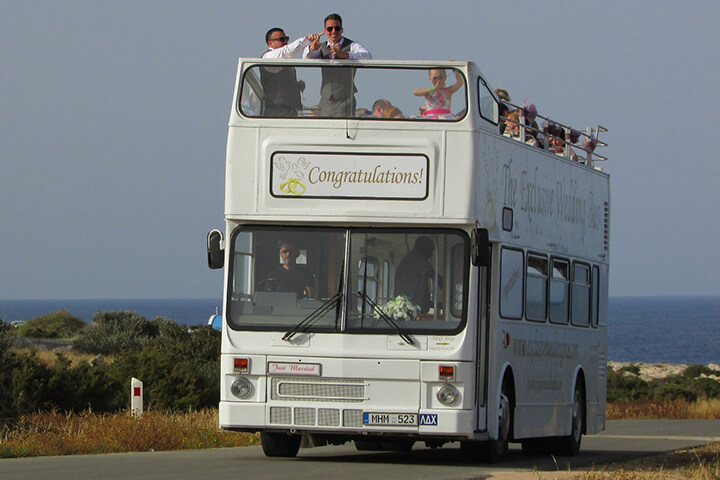 A new public transport system commenced on 5th July 2010, with the aim to expand urban, inter-city and rural bus services with a vastly improved transportation network, increased bus routes, updated buses, radically reduced fares, new routes with extended hours, as well as 'park and ride' schemes.
It was hoped that the new modern and efficient system would encourage more people to make use of it.
Bus stops are marked, and most have a bus shelter with seating. Timetables for all the bus services are available free to the public at the main bus station in every city.
The schedules change for winter and summer months.
It is possible to book an open top bus tour during the summer months, or a vintage bus for wedding parties or any special occasion, or a minibus for any event.
There is also an airport shuttle bus service in operation, which has proved very popular since its inception. With a brand new fleet of buses that are more like luxury coaches, great drivers, and a regular timetable, this is a service that was long overdue for Cyprus and has been welcomed by the general public.
The cost of seats is very reasonably priced too. Visit the website for schedules and prices.
Coaches can be booked for private or public trips throughout the year. The service is used mostly for airport transfers in conjunction with package holidays, and for school trips.
However, they can be booked for many kinds of functions, such as wedding parties, office parties, or any other private event, and can be booked for late night returns.
---
Cyprus Air Travel
There are two legal entry passenger airports in Cyprus. Both of which have undergone significant upgrades recently.
Live flight status for Larnaca and Paphos airports – Search for flight status by airport name or flight number.
IATA Airport Code: Paphos = PFO
Pafos airport – was completely upgraded and was officially open for business as the new Paphos airport in November 2008. The comfortable and functional areas of the new airport have 28 check-in counters, three luggage delivery belts, and 800 parking places, and will serve 2.7 million passengers per year.
Parking information and pricing, as well as information for disabled people or people with reduced mobility, can be found on the Pafos Airport website.
IATA Airport Code: Larnaca = LCA
Larnaca airport was completely upgraded and officially open for businesses as the new Larnaca airport in November 2009. The new airport is three times bigger than the old one and will serve 7.5 million passengers per year.
It boasts 16 airbridges, 67 check-in counters, five baggage carousels, VIP and business lounges, duty-free shops, comfortable and functional areas offering a wide range of shops and cafeterias, as well as 1000 parking spaces.
Parking information and pricing, as well as information for disabled people or people with reduced mobility, can be obtained on the Larnaka Airport Website.
Customs Import Allowances (both airports):
Passengers arriving with goods purchased within the EU which are for personal use:
Tobacco products
800 cigarettes
400 cigarillos
200 cigars
1kg tobacco
Alcohol
10 liters of spirits over 22%, 20 liters with less than 22%
90 liters of wine (sparkling wine only 60 liters)
110 liters of beer
Non-European countries
200 cigarettes
100 cigarillos
50 cigars or 250 g of smoking tobacco
1 liter of spirits over 22% volume
2 liters wine
16 liters beer
Currency
If arriving from or traveling to a country within the EU, amounts exceeding EUR 12.500 or more, or the equivalent in other currency MUST be declared.
Importing pets
Cats and dogs arriving from EU countries need to be treated against echinococcus and ectoparasites no less than 24 hours and not more than 48 hours before shipment is required.
The animal must be accompanied by a certificate issued by an official veterinarian authorized by the country of origin stating that the animal was examined not more than 72 hours before shipment. The document must also indicate the animal has remained for the past six months or since birth in the exporting country or premises where no cases of rabies were reported during the past two years.
Prohibited
American Pitbull, or Pit Bull Terrier, Japanese Tosa, Dogo Argentina, Fila Bra-Sileiro.
The owners of the traveling pets must communicate to the veterinary services their arrival information namely: Air carrier, flight number and the date/time of their arrival in Cyprus. The above information must be communicated to the veterinary services 48-72 hours before arriving in Cyprus.
Further information on the official Government Veterinary website or download an information leaflet, dated 2009 (in pdf format, may not be compatible with mobile devices) Noncommercial movement of pet animals.
---
Cyprus Transport by Sea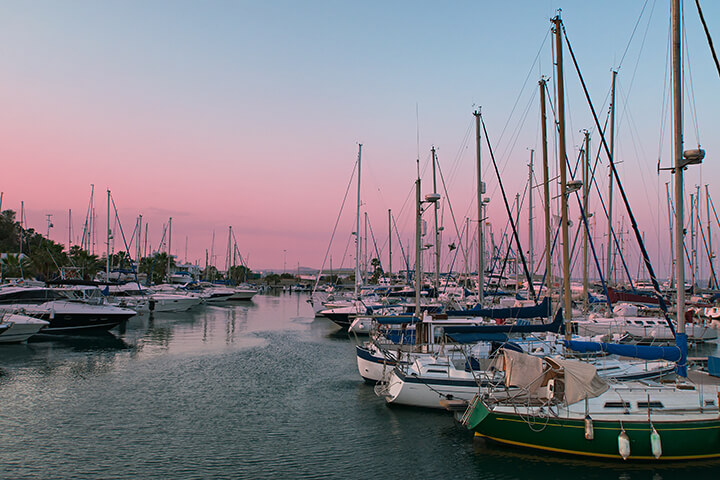 The ports in Cyprus are always busy with incoming overseas freight shipping, as well as short stay cruise lines.
Shipping Your Car and Belongings to Cyprus
It is easy to arrange overseas car shipping to Cyprus if you wish to bring your car with you. However, services for passengers who want to travel with their car are not so easy to find, although there is sometimes such a service from Italy.
Research and plan your overseas move of all your furniture and personal possessions to Cyprus. Otherwise, it may turn out to be costly and very stressful if it is not organized by a reputable and professional International moving company.
Booking a Cruise to Cyprus
If you are looking for a cruise to or from Cyprus, then you won't be disappointed as there are several cruise line companies offering cruises to many destinations such as Egypt, Israel, Lebanon, Syria and the Greek Islands.
Cruises are available for short trips of just a couple of days, to more extended trips of several weeks.
Arriving in a Personal Boat
You can arrive by sea into Cyprus in your boat, but you must use only the legal entry points of Larnaca port, Limassol port, Paphos port, or Latsi port.
Note: Arrival in Cyprus via any other port which is located in the Turkish occupied area of Cyprus and which is not under the effective control of the legitimate Government of the Republic of Cyprus, is illegal and must be avoided.
Lighthouses in Cyprus
Cyprus is a founding member of the International Association of Lighthouse Authorities. (I.A.L.A.). There are eight lighthouses located around Cyprus at Paphos, Cape Gata, Cape Kiti, Cape Greco, Cape Akama [Arnaouti], which are in the Government controlled areas, and Cape St. Andreas, Kyrenia and Cape Kormakiti, which are within the Turkish occupied area of Cyprus and outside the effective control of the Cyprus Ports Authority.
The lighthouses in the government-controlled area have all been modernized with photovoltaic systems, meaning they operate on solar energy, and are automated, thus no longer requiring lighthouse keepers. The Cape Gata lighthouse is the southernmost lighthouse in Europe.