Cyprus has mostly a dry and warm climate all year round, but it does also see snow on the Troodos mountains from around January to March. There are also rainy days usually during the winter months, which can sometimes bring very heavy rainfall in a short time.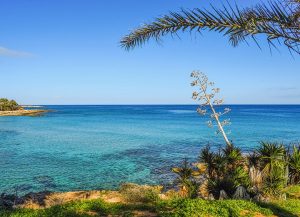 It can feel sweltering during July and August, sometimes with unbearably high humidity. Winter can feel cold at times, more-so at night between January to March.
There are also some regular windy and dusty days due to the Coptic storms of which there are 14 primary annual events, which range in severity and duration, but usually arrive within 48 hours of the predicted dates, and often bring rains with them, either before, during or after each Coptic storm.
You can download information about the Mediterranean (Cyprus) Coptic Storms (in pdf format, may not be compatible with mobile devices) the dates are reasonably accurate, and durations are listed when known.
The four red items in the attached document mark the strongest Coptic storms of the year. Cyprus also sees the odd tornado or whirlwind hit its shores, but these are few and far between.
Below you can see the current Cyprus weather in Nicosia, Larnaca, Limassol, Paphos, and Famagusta. The weather in Cyprus can vary from each district, whereas it may be rainy in Nicosia, warm and sunny in Limassol, with snow on the Troodos mountains – All at the same time!
If you cannot view the live weather stats above, your browser is probably blocking active x controls. Please look for the gold bar towards the top of this page, right click on it, and select 'allow.' You should then be able to see live Cyprus weather stats for several areas.