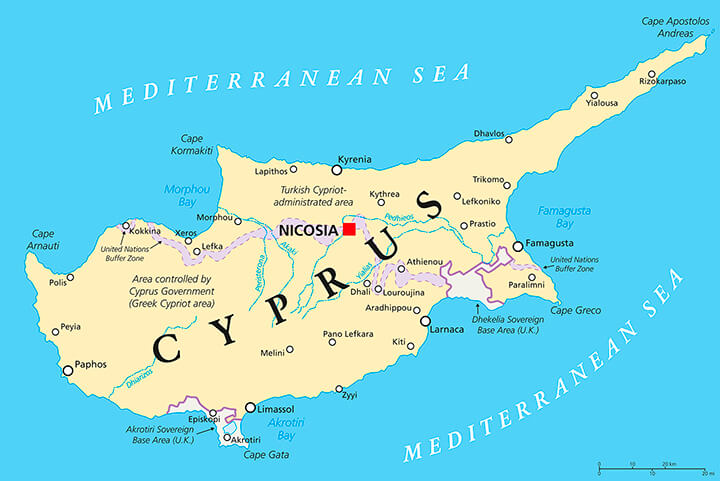 Disclosure: This post contains affiliate links. If you click through and make a purchase, I'll earn a commission, at no additional cost to you. Read our full disclosure here.
As is detailed on most Cyprus maps, you will see the area to the North and East of the 'United Nations Buffer Zone' line is occupied by Turkey since the 1974 Turkish invasion. The Greek speaking Republic of Cyprus is the area shown on the southern side of the UN buffer.
Also shown are the UK Sovereign Base Areas (SBA's) of Akrotiri and Dhekelia, and the six main districts of Cyprus being Limassol, Larnaca, Nicosia, Paphos, Famagusta, and the Kyrenia district.
The major cities and villages of both the Republic of Cyprus and Northern Cyprus are shown on the map.
All of the images on this page will expand to a large size when clicked.
---
Political Map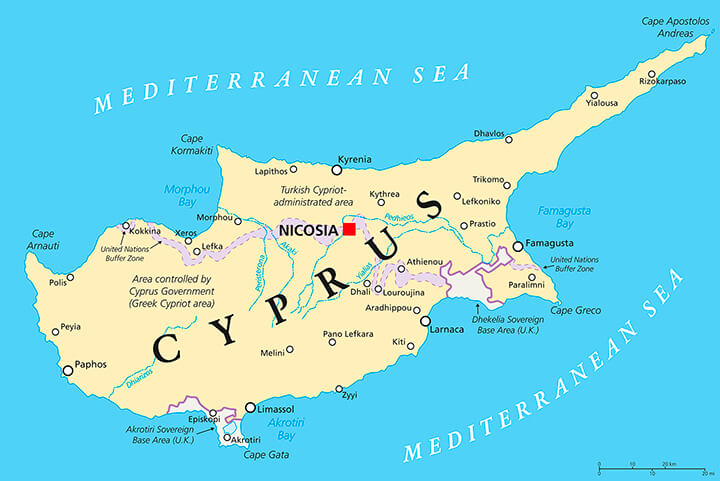 ---
Districts of Cyprus Map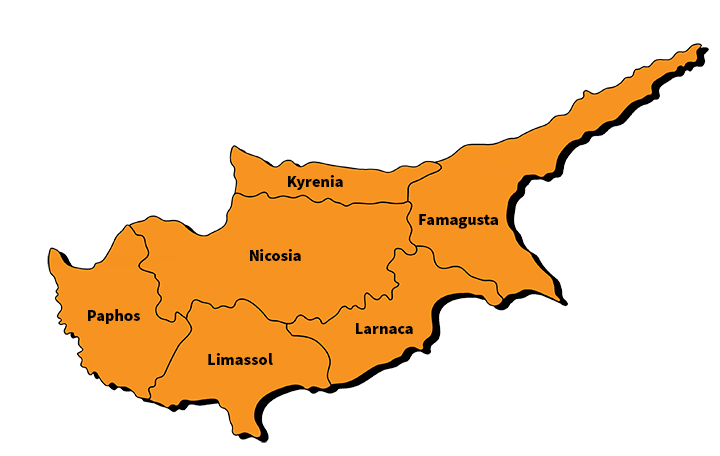 ---
Interactive Map
This map shows you Cyprus' relative position in the world as an island in the Mediterranean.
While being a large island of over 1 million inhabitants (3,572 square miles, there are two other islands in the Mediterranean that are larger: Crete and Sardinia.
Cyprus is the 81st largest island in the world.
As of August 2022, there is a limited Street View of Cyprus.
I have noticed there are a few streets in Nicosia and a few small towns in Northern Cyprus that have it available.
---
Travel Maps
If you need a old-school fold out map of the whole island, there are quite a few to choose from online.
One that looks like it has good reviews and is by a trusted source is this National Geographic travel atlas. It is waterproof, tear resistant and folds up to a small size. Pretty handy as a road map.
---
Historical Map
I scanned this antique Cyprus map from an 1899 Atlas which was during the period of time when the island was a United Kingdom Protectorate.
I couldn't fit the whole of Famagusta in the scanner, unfortunately.
It is interesting that Paphos is called Papho here.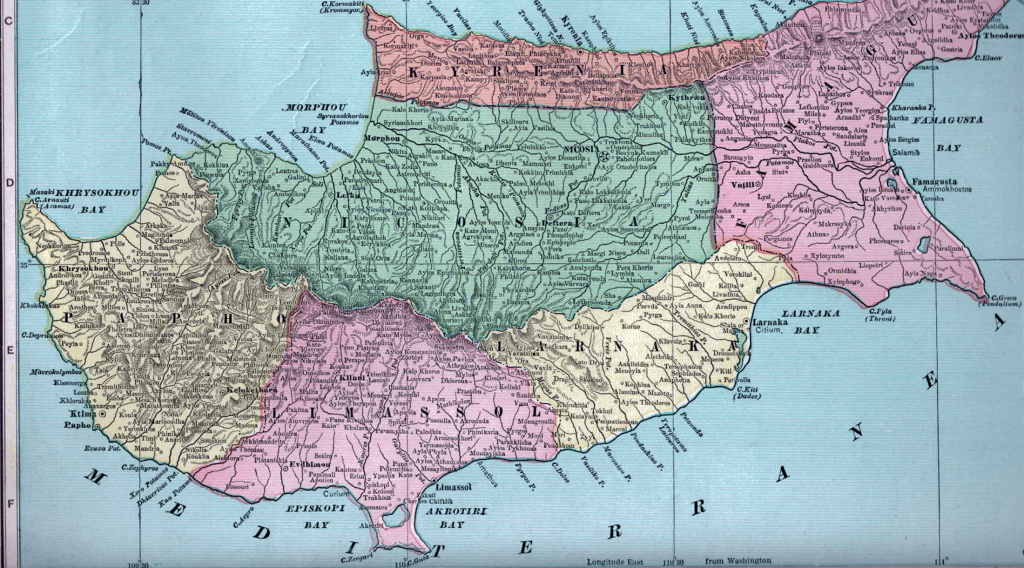 Other Maps of Cyprus
Satellite Map – This website has a high-quality satellite map of the island. It is quite interesting to see how the land is being used and how the agricultural land is layed out. The UN line is overlayed so you can see the natural features the boundaries were kept to.
Historical Overlays – This site links historical maps and allows you to overlay them on the current maps. Allows you to see the land uses change over time.
Hiking Trails – Currently 17 hiking and sight-seeing trails are listed. Site also has reviews, length of hike, and estimated time required.