Demographics of Cyprus
The total population of the island is 1,133,803 according to the 2011 census.
The population (whole island) is broken down into the following ethnic groups:
Greek Cypriot – 78% (884,366)
Turkish Cypriot – 13% (152,000)
Other – 9% (102,042)
Population History of the Republic of Cyprus
Yearly estimates of the population of Cyprus in the Government-controlled area according to Cystat.
More in-depth statistical data regarding population and social conditions can be found on the Cyprus Statistical Services Website.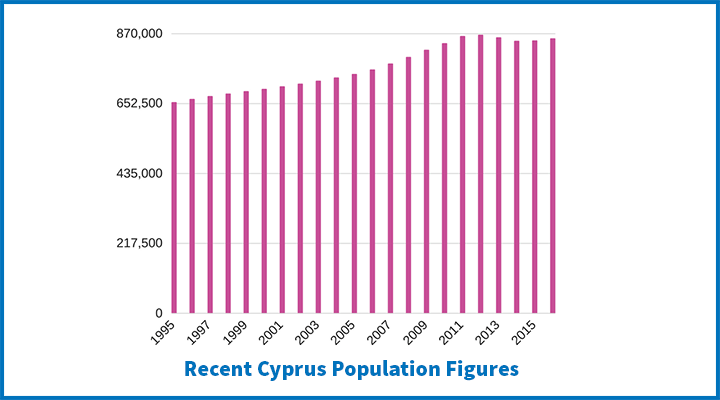 2016 – The population of Cyprus was estimated at 854,800
2015 – 848,300
2014 – 847,000
2013 – 858,000
2012 – 865,900
2011 – 862,000
2010 – 839,800
2009 – 819,100
2008 – 796,900
2007 – 776,400
2006 – 757,900
2005 – 744,000
2004 – 733,000
2003 – 722,900
2002 – 713,700
2001 – 705,500
2000 – 697,500
1999 – 690,500
1998 – 682,900
1997 – 675,200
1996 – 666,300
1995 – 656,300