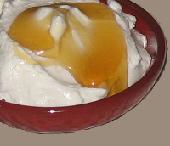 The ultra-simple combination of yogurt that has been sweetened with honey (called giaourti me meli) is beloved all over Greece, but Cypriots are particularly fond of it.
If you have ever visited Cyprus, you have probably had this dessert. Yogurt with honey is likely to be one of the things that visitors are served at a meze feast.
You will be able to find it in almost every Cypriot tavern and restaurant. Yogurt is one of the cornerstones of Cypriot cuisine and shows up in many dishes. It may be topped with almonds, walnuts or pistachios. The nut topping adds further complexity to the dish.
Traditional yogurt from Cyprus is made with the milk of goats or sheep, though commercial producers may use cow's milk or a combination of cow's milk with milk from goats or sheep. Because of how simple this dish is, it is essential that the ingredients used are of the highest quality.
Ingredients:
1/2 – 3/4 cup of strained Greek yogurt per serving
1-2 teaspoons of Greek thyme honey per serving
Crushed walnuts and/or almonds (optional)
Preparation:
In individual serving bowls, drizzle honey over the yogurt and sprinkle with walnuts and/or almonds if desired.
---