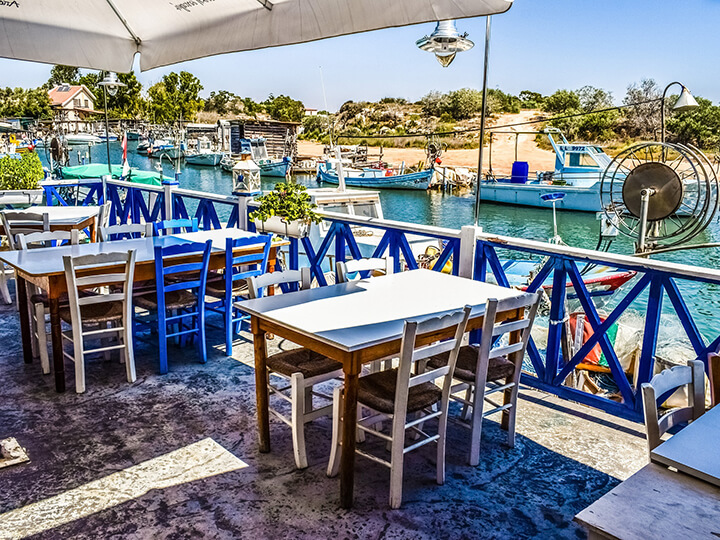 Eating Out in Cyprus
Eating out around Cyprus can mean a simple, tasty, economical meal such as kebabs or burgers, all the way to a gastronomic feast. International cuisine is widespread throughout all districts and of a reasonably high caliber.
The most popular of foods in Cyprus to eat out is of course souvlaki, cooked outside on the bbq, and there is hardly a street to be found in Cyprus that doesn't have a kebab shop with the mouth-watering smell of kebabs wafting down the streets.
The small traditional Cypriot tavernas are also very popular and can be found throughout all districts, in villages and in tourist areas, where one can choose from fresh local dishes of meat, fish, vegetables, and salads.
On a typical menu, you could expect to find dishes such as:
Stifado (Beef or rabbit stew casseroled with wine, vinegar, onions, and spices)
Moussaka (Baked lamb and eggplant casserole covered with a thick layer of béchamel sauce)
Kleftiko (Shoulder of lamb cooked slowly for around 24 hours in a clay oven with lemon juice, and cinnamon)
Fasolada (A soup made of dry white beans, olive oil, and vegetables)
Koupepia (also known as Dolmades)(Vine leaves stuffed with minced meat and rice seasoned with mint, onions, and spices)
Loukanika (Pork sausages soaked in red wine, then smoked, and seasoned with coriander and red pepper)
Tzatziki (A mixture of yogurt with finely cut garlic, cucumber, olive oil and a little pepper)
Tahini (Crushed sesame seeds with olive oil, lemon, and garlic)
Taramosalata (Fish roe blended into a creamy pink dip of pureed potatoes with olive oil, parsley, lemon juice and finely chopped onion)
Haloumi (White soft cheese usually grilled, made from either goat or sheep milk and sometimes spiced with peppermint)
Sheftalia (Grilled fresh sausage made of minced pork, chopped onions, bread crumbs, chopped parsley, white pepper, and salt).
These are just a few of the local divine dishes you will find around Cyprus. Of course one can always try smaller amounts of many local foods in a traditional Cyprus Meze (Mezedes), which includes many small dishes of meat, fish or vegetables.
Throughout Cyprus, but more especially in the seaside resorts, you will find many seafood restaurants serving a variety of shellfish and fresh fish dishes, including calamari, octopus, red mullet, and sea bass.
Some of the local tavernas and fish restaurants can get very busy, especially at weekends when the locals frequent them, so it may be advisable to reserve your table.
If you are looking for a more International theme, then there are many restaurants in all towns offering menus such as Chinese, Italian, Mexican, Japanese, Indian, French and of course English, plus many more.
Some of the major hotels also have excellent restaurants that are open not only to their hotel residents but also to the public.
Sweet food dishes are also trendy in Cyprus, with many local delights available for dessert dishes usually consisting of fresh fruits, which may be served alone, or served in combination with a selection of sweet pastries.
---
Food Delivery in Cyprus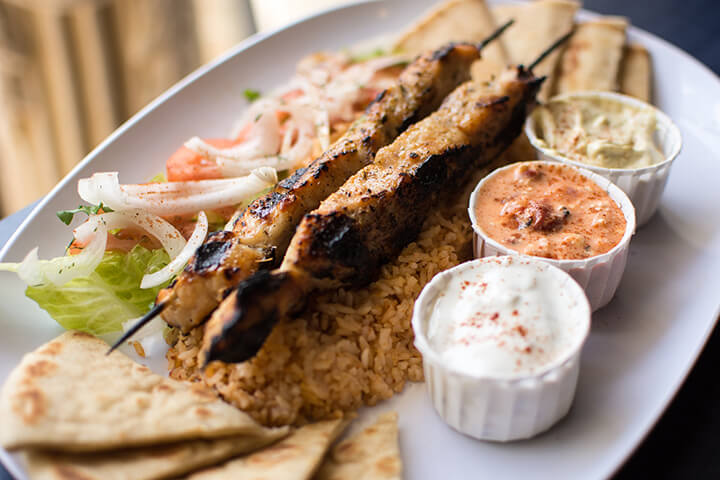 Homemade souvlaki and pita.When living in Cyprus, 'eating in' usually means firing up the bbq and eating in the garden. With the mild year-round climate of Cyprus, the bbq is an essential part of life. With Cyprus having an abundance of fresh meat, fish, vegetables, and salads, one can easily maintain a healthy diet.
Of course, there are other times when you might not want to cook or go out, and this is no problem. There are plenty of Take-Away food outlets that also do home deliveries, such as pizza, fried chicken, burgers, or even a traditional Cypriot meal, with delivery costs being low.
You can also pick up all kinds of Take-Away foods to eat at home, and some of the favorite choices are spit-roasted whole chicken, or bbq corn on the cob, which is usually sold by street vendors.
Bakeries and Delicatessens are plentiful, and the vast range of bread, sweet delicacies, and pastries, as well as mouth-watering cakes that will get your taste buds flowing.
There will be other times when you may be hosting a formal dinner party but would prefer to have professionals provide the catering, and this is another service that is easily found in Cyprus, offering excellent Cypriot or International cuisine.