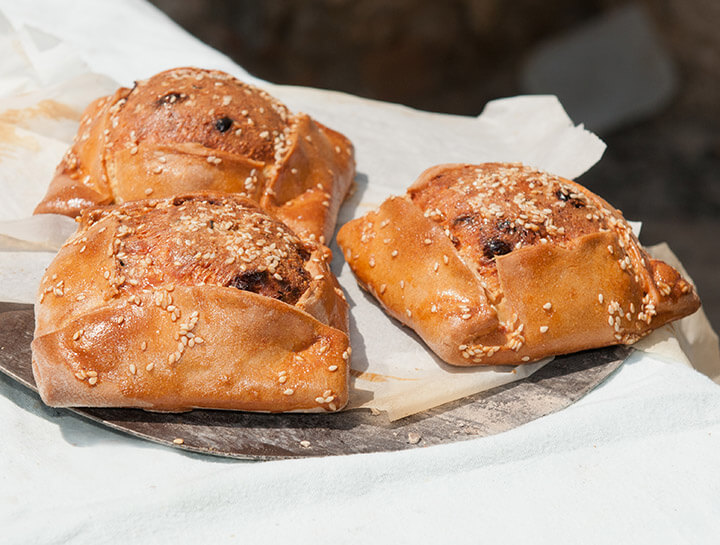 Flaounes are sweet pastries (sometimes referred to by foreigners as pies) filled with cheese. The word flaounes comes from a Greek word for sorrow. They are prepared both by members of the Greek Orthodox Church and by Turkish Muslim Cypriots. For Orthodox Greeks, they are served to break Lent on Easter Sunday; for Muslim Cypriots, they are eaten at Ramadan.
Preparation of flaounes is traditionally an activity for the whole family. Families often make large quantities of this pastry, with the grown-ups handling the measuring and mixing and the kids taking care of the assembly.
The Orthodox Greeks often eat flaounes in place of bread after church service on Easter Sunday. Easter marks the most important celebration of the Greek Orthodox religion. Flaounes are also typically eaten over the two or three weeks following Easter Sunday.
It is common for them to be frozen so that they can be eaten at different times of the year. Some people simply make them all year round.
Ingredients:
Yeast dough
1 ½ lbs (750gr) strong plain flour
1 sachet easy bake yeast
1 teaspoon salt
2 teaspoons sugar
2 tablespoons olive or vegetable oil
water to mix
Cheese filling
12oz flaouna cheese or 8oz (250gr) cheddar cheese
4oz (100gr) halloumi
1 tablespoon flour
1 teaspoon baking powder
1 tablespoon crushed dried Mint
4 eggs lightly beaten
To finish
1 egg beaten
sesame seeds
Preparation:
For the dough, sift flour into a large bowl. Stir in the yeast, salt, and sugar. Add the oil and enough water to make it firm. Knead for at least 5 minutes until it has a smooth and elastic feel. Put the dough into a plastic bag and leave in a warm place for an hour to rise.
For the filling, coarsely grate the cheeses, add the flour and baking powder then gradually stir in the beaten egg and seasonings until you have a stiffish paste (if the mixture becomes runny don't use all the beaten egg).
Divide the dough into egg sized pieces and roll these into 4" (10cm) discs.
Place a generous tablespoon of filling into the center of each pastry disc, spreading it slightly. Pull dough up at 3 points to make a triangle, or 4 points to make a square. You should still be able to see the filling in the middle.
Press corners together to seal and leave to rise. Just before baking, brush with beaten egg and sprinkle some sesame seeds over them.
Bake at 450°F / 230°C for 12-15 minutes until cheese filling is puffed and flaounes are golden.
Serve hot or cold.
Makes about 12.
---