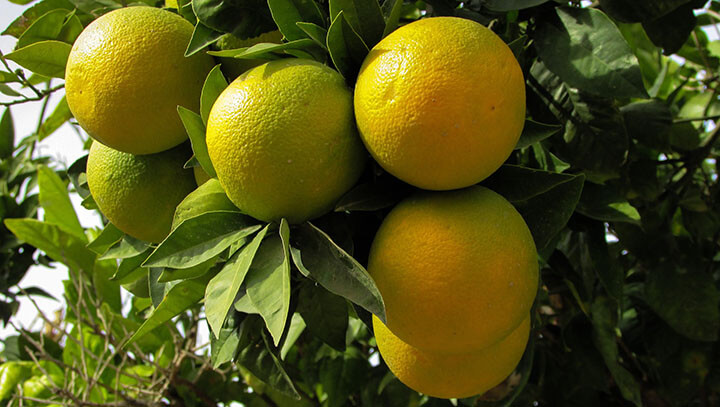 For centuries Cyprus has learned how to become self-sufficient in homegrown produce. Today it is one of the major exporters of oranges, lemons, and grapefruits. The growers benefit from the year-round mild climate and sunshine.
Meat and Dairy
Cypriot farmers produce excellent quality pork, lamb, beef, and chicken. Goat and cow farming is also dominant due to the production of the national cheeses of halloumi, anari, and feta, as well as yogurt.
Fruits
Cyprus grows many excellent quality fruits. The main ones being lemons, oranges, grapefruit, limes, apples, mandarins, apricots, pears, figs, cherries, nectarines, plums, pomegranates, bananas, strawberries, peaches, kiwi, watermelons, sugar melons, and of course table and wine grapes.
In September 2010, the Minister of Agriculture, Natural Resources and Environment gave an official presentation of new fruit cultivation in Cyprus, the Nashi (Nasia), which originates from Japan. This fruit is considered beneficial for the heart and digestive system. It is cultivated in Kyperounta in the Pitsilia region.
Vegetables
The island is also self-sufficient in its vegetable growing industry. This provides very high-quality red potatoes, carrots, onions, peppers, beans, wheat, corn, garlic, cabbage, cauliflower, marrows, aubergines, beetroot, kolokasi, tomatoes, lettuce, parsley, celery, mushrooms, and of course the famous green and black olives.
Nuts
You can also find fresh nuts grown in Cyprus, like almonds, walnuts, pistachio, and hazelnuts.
Honey
Cyprus also produces some of the best quality honey that you can find. Honey is organic, a natural sugar alternative with no additives that is easy on the stomach will adapt to all cooking processes, and has an indefinite shelf-life.
Carobs
Another healthy product of Cyprus is Carobs, which have excellent nutritional value and are said to be the healthy alternative to chocolate. Many locals regularly buy the juice of carobs to take as a daily health supplement.
Fresh Seafood
On such a Mediterranean island one would expect to find fresh fish, and you won't be disappointed for fishermen bring nets full of red mullet, sea bass ashore daily. Also caught are octopus and squid (seasonal). There are also fish farms that provide tsipoura, lavraki, and tiger prawns.
Burgeoning Ostrich Farm
In more recent times, an ostrich farm has been set up in Cyprus, for local production as well as exports. The ostrich meat is said to be the most healthy of red meats, with high nutritional value.