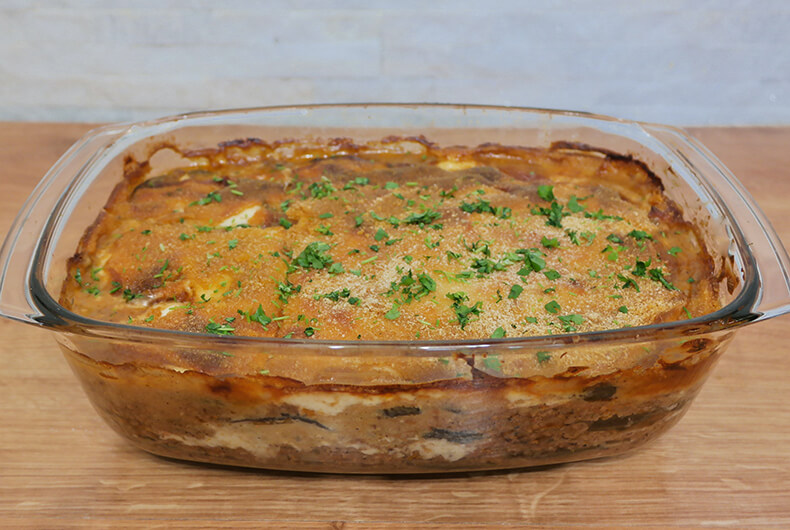 Arguably, the best known Greek dish, moussaka is a vegetable (traditionally eggplant) casserole covered and held together by a bechamel sauce. Other vegetables that can be used include potatoes and zucchini.
The vegetables may be used instead of or alongside the eggplant. There are versions of moussaka in Turkey and the Balkans, those versions include ground beef while the Cypriot versions can be made with lamb or beef.
Moussaka is thought to have originated with the Arabs and reached Greece and Cyprus via Turkey. The evidence of its Arabic origins comes from a Medieval cookbook called The Baghdad Cookery Book that includes a recipe that is strikingly similar.
The Greek name for the dish comes from the Arabic musaqqa'ah. The word translated from the Arabic means chilled.
In the early 20th century, the attempt was made to make the dish more European with the addition of bechamel sauce. Thus, the version in use today is the modernized version, not the traditional version from the Levant.
Ingredients
2 lb (900g) minced beef
5 eggs
1 and half oz (45g) plain flour
2 oz (60g) unsalted butter
16 fl.oz (475ml) milk
8 fl.oz (250ml) red wine
8 fl.oz (250ml) beef stock
4 oz (115g) cottage cheese
4 oz (115g) Graviera (or Gruyere) cheese grated
2 oz (60g) Parmesan cheese
1 oz (30g) feta cheese grated
4 aubergines
2 onions finely chopped
6 tomatoes
1 tablespoon all spices
2 tablespoons of parsley finely chopped
2 tablespoons of ground cinnamon
Salt & Freshly ground black pepper
1 teaspoon of nutmeg
1 oz (30g) fine breadcrumbs
Preparation:
Trim the ends off the aubergines and cut into quarter inch (5mm) slices then lightly sprinkle with salt, and leave to stand in a colander for 60 min.
Add 3 tablespoons of olive oil to a saucepan, heat, then add onions, cook over low heat for 5 min, until golden. Increase the heat, add meat and cook over moderate heat until brown.
Add the wine, bring to the boil, whilst stirring.
Add tomatoes, then lower the heat and simmer for 10 minutes.
Add 1 tablespoon of parsley, stock, cinnamon, allspice, 1 teaspoon of salt, and 1 teaspoon of pepper.
Simmer for 30 minutes until liquid has evaporated, then cover and set aside.
Heat 3 tablespoons of olive oil in a frying pan, add a layer of aubergines to the pan, fry until golden on both sides.
Remove and drain on paper towel.
Add 1 tablespoon oil to the pan and fry another layer and repeat, set aside.
Melt butter in a saucepan, add flour and stir until smooth.
Heat over a moderate heat for 2 minutes.
Gradually add the milk, and stir, bring to the boil, remove.
Add the cheeses and nutmeg and stir into a sauce. Stir in well-beaten eggs, a little at a time, mix well. Season to taste and set aside.
Preheat oven to (180°C), (350°F),(Gas Mark 4).
Layer a 4 inch (10cm) baking dish with aubergines. Cover with a third of the meat, cover the meat with 4 tablespoons of sauce. Repeat this twice.
Top with aubergines and cover with remaining sauce, then sprinkle with breadcrumbs.
Bake uncovered for 60 minutes.
Garnish with parsley and serve hot.
Serves:8
---