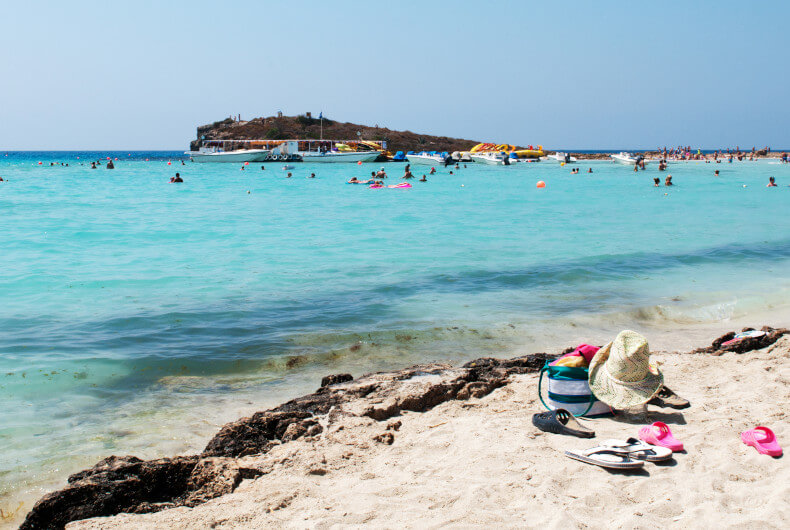 Are you considering a trip to Protaras? Creating an exciting itinerary might be stressful, deciding where to go and what activities to expect. But don't worry, we've got you covered; here's a list of the top ten things to do on your vacation.
About Protaras
Protaras is part of the little town of Paralimni on Cyprus' southeast coast. It is one of the island's most popular summer destinations. It boasts excellent beaches with pure waters, from secluded bays to extensive stretches of white sand. It's Ayia Napa's laid-back neighbor, with white sandy bays and secret coves that run the length of the coast, only broken up by rocky headlands that make for great treks.
Furthermore, the numerous restaurants, scenic taverns, trendy bars, classic pubs, and laid-back cafes make Protaras an ideal resort town for winding down and enjoying the languid summer days.
Protaras is one of the most popular places in Cyprus for families traveling with young children or couples searching for a romantic holiday, thanks to its beautiful beaches and calm environment. The peaceful beaches are ideal for people who want to have some summer pleasure while avoiding the other nearby beaches' boisterous, often overwhelming nightlife.
When Is the Best Time to Go to Protaras?
May and June and September and October are ideal for visiting Protaras. You will find more incredible deals, fantastic weather, and great spots on any beach during these two seasons.
July and August are peak vacation months for locals, and Protaras is their preferred vacation destination. High rates, high temperatures, and crowded beaches, restaurants, pubs, clubs, and streets are all to be expected.
Top 10 Things to Do in Protaras
Are you planning a vacation to Protaras soon? Don't miss out on all of the fun things to do in this summer haven! Take a look at our recommendations for the best things to do in Protaras, Cyprus!
1. Relax at Fig Tree Bay
A trip to Protaras would not be complete without a pleasant day at the beach!
Fig Tree Bay, one of Protaras' most popular resorts, offers soft, fine sand and mild, blue waves, with top-notch amenities and a stunning seaside location. You may relax by the beach and soak up some sun, or you can try your hand at fishing, snorkeling, boating, or other fascinating outdoor sports.
The waters are spectacular, as a tiny island divides the beach from the open sea around 50 meters away. This creates a large expanse of waist-high water so clear that every grain of sand on the seafloor can be seen.
Fig Tree Bay is also conveniently located near various stores and local entertainment, giving it an excellent starting place for anybody anxious to discover the city!
2. Take in the Scenery at Cape Greco
If you prefer sightseeing and a little outdoor adventure, then Cape Greco is a must-see on your next visit to Protaras. Cape Greco is famous for its breathtaking views of nature and historical landmarks.
You can reach the cape by land or water, and both routes will put you close to its movie-like beauty.
On foot, follow trails up to a viewpoint that offers views of the rest of the headland and the deep blue Mediterranean. You can hop between the hollow cavities chiseled out of the granite by sea currents from the water.
Other unusual rock formations may be found further along, including a natural arch that you can swim beneath on calm days. Around the area, there are several natural paths to explore, the Roman ruins at Kyrios and the sea caves below.
If you can visit Cape Greco, it is a sight to behold. Just remember to dress appropriately and carry plenty of water to stay hydrated!
3. Offer Your Prayers at St. Elias Church
The Church of St. Elias, also called Profitis Ilias, is another must-see religious attraction in Protaras.
St. Elias was built in the 1980s, and it sits atop a 100-meter hill that may be reached through a 150-step stairway. Although the church as we currently know it was erected in the early 1980s, the ground on which it was built had previously been home to another church.
The church is difficult to reach due to its location at the top of a hill, especially in the summer. Still, once you get to the summit, you'll understand why everyone is so excited. It's certainly worth the effort because of the fantastic vistas.
The views are breathtaking, spanning the entire town and out to the sea beyond. Take a look at the trees of remembrance in the garden up here, where locals tie ribbons to remember loved ones.
The Church of St. Elias is really a sight to behold, especially in the evenings when its lights twinkle against the night sky.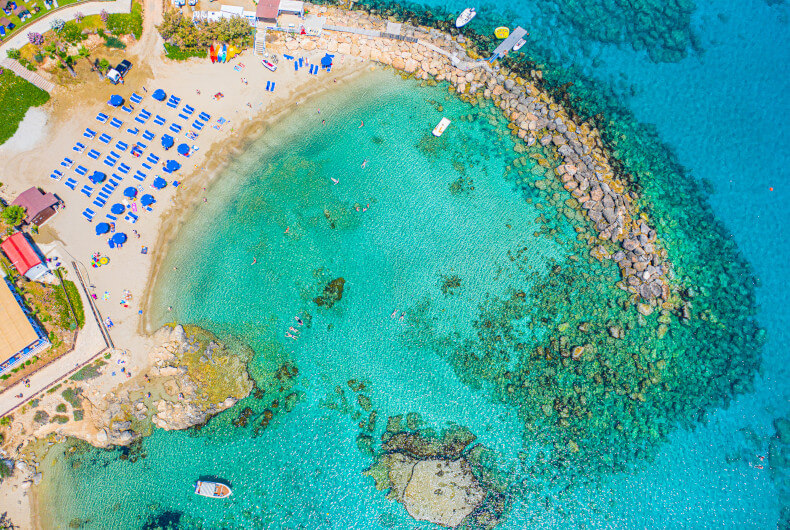 4. Take a Swim in Sirena Bay's Waters
If you want to wow your sweetheart on your next trip to Protaras, a visit to Sirena Bay is the place to go!
Many visitors only discover this secret beach by accident when following the coastal walk, and it's easy to miss from the road. Sirena Bay is a sliver of sand and shingle hemmed in by greenery and guarded by a welcoming waterfront tavern.
You may relax on the fine sand while taking a plunge in the calm, crystal-clear waters. Because trees border the beach, there are plenty of relaxed and peaceful locations to enjoy a great walk or simply take in the scenery together. Sirena Bay is where to go if you want to find peace and tranquility in nature.
At the end of the day, you can round off your beach trip with a delicious dinner and drinks at a traditional beach-side restaurant and bar, which is easily accessible from the beach.
5. Ayia Napa
Ayia Napa, known for its magnificent nightlife, is located on Protaras' east coast and features excellent sandy beaches with crystal clear turquoise water. The resort also offers a variety of thrilling activities for families.
Ayia Napa is just a short cab ride away if you're in your late teens or twenties and want to let your hair down. It's long been recognized as one of the liveliest party spots in the Mediterranean, attracting young people from all across Europe.
Many of Ayia Napa's 80 pubs and 12 nightclubs are centered on the town's square, with most open till dawn seven days a week throughout the summer. Late June to early August is the busiest time of year, but there's still plenty to do in the off-seasons.
Ayia Napa has a plethora of businesses selling anything from souvenirs and beachwear to jewelry and brand label goods, in addition to the beautiful beaches and vibrant nightlife.
6. Nissi Beach
The busiest beach in Ayia Napa is located south of Protaras. The beach is exceptionally stunning – smooth and golden with crystal clear water.
Because it is so large, there is a peaceful end for those who want to relax in peace and quiet. On the other hand, it is a more entertaining stop for those who want to listen to music/DJs or visit the bar while on the beach. At Nissi Beach, you may have a good time all afternoon, with a nonstop beachfront party in the summer.
If you're feeling adventurous, you can even try cliff-diving off the west side of the bay's promontory. Nissi Beach is a lovely area to spend relaxing days by the sea for everyone else. You get to take pleasure in the beautiful sandy beach with lounge chairs and snack bar, as well as several lovely open-air dining spots with stunning views of the sea.
Different water activities, such as catamarans and jet skis, are also available. This location also offers a seaside water park with various inflatable toys that provide fantastic entertainment for parents and children. During the summer, a lifeguard patrols this beach line.
This beach is ideal for various people, including alone travelers, relaxation seekers, and others. However, during the peak season, it can get a little congested.
7. Ayia Napa Monastery
Ayia Napa isn't just about the raucous nightlife, despite its image. It also has a rich history, including the archaeologically noteworthy Ayia Napa Monastery (dedicated to the Virgin Mary).
This incredible Venetian monastery, which is much the same today as it was 500 years ago, is located in the middle of the town, making it easily accessible to everyone. The church, cloisters, and flour mill of the monastery are all made of limestone and are joined by a new church built in 1990 after Ayia Napa's flock outgrew the previous one.
Couples having difficulty conceiving a child come here to touch the Virgin Mary statue, which is credited with multiple local childbirth miracles! If you enjoy historical landmarks, the Ayia Napa Monastery is a must-see.
8. Parko Paliatso Fun Fair
One look at Parko Paliatso's world-famous slingshot can either make your heart race or send shivers down your spine, depending on your mood. The funfair is Cyprus' most prominent, with a 30,000 square meter land area and a parking lot that can accommodate up to 300 cars at a time, with almost 25 distinct attractions throughout the park.
Riders board a capsule catapulted into the air at high speeds by a bungee rope-powered catapult. According to reports, it is Europe's highest ejection seat ride. The Ferris wheel, which sits 45 meters above the park and provides spectacular views from the top of your orbit, is a little less nerve-wracking. Take a ride at sunset if possible.
The cost of rides varies. There is plenty of parking at the park, with two eateries.
9. Konnos Bay
You'll come across this fantastic natural beach around 4 kilometers east of Ayia Napa and 2 kilometers north of Cape Greco. The beach is known for its golden-white sand and varied tints of the blue sea.
The Konnos beach is roughly 200 meters long. It includes all of the amenities you'll need, including loungers and umbrellas, as well as restrooms and a beach bar with live music all day. The way the cove is protected from both the wind and sea currents by headlands that function as a barrier to the elements makes Konnos Bay so beautiful.
If you're on vacation with children, this beach is ideal since the calm sea is ideal for splashing around in for the younger members of your family. In addition, the excellent swimming conditions with little to no waves make it a favorite family beach.
If sunbathing becomes too monotonous, go snorkeling or participate in one of the many watersports offered. Snorkeling is enjoyable, and you may see a variety of fish. In addition, the visibility is incredible, with crystal clear sea and hardly any waves.
10. Varosha
If you're visiting Famagusta, you should definitely stop through this ghost village on the city's south side.
The entire population of one of the area's top resorts fled after the Turkish invasion in the 1970s, and Varosha has remained abandoned ever since. Varosha was a thriving resort town with sky-scraping hotels, fashionable retail areas, and sandy beaches commonly referred to as the greatest in Cyprus before the 1974 split of Cyprus.
Although you can't go inside the resort to witness the falling towers up close, you can capture amazing long-distance shots from the bay.
The way nature is recovering the city in the absence of people is striking: loggerhead turtles have even resumed nesting on the beach.
Conclusion
Summers are sometimes best spent kicking back, relaxing, and getting away from the hustle and bustle of everyday life. You can experience a laid-back summer in Protaras by seeing its gorgeous landmarks, swimming in its refreshing seas, relishing in all the great food and drink on offer, and having some family-friendly fun with your loved ones.
On your next trip to this casual but beautiful summer resort, make sure to check out these incredible places and must-do activities!