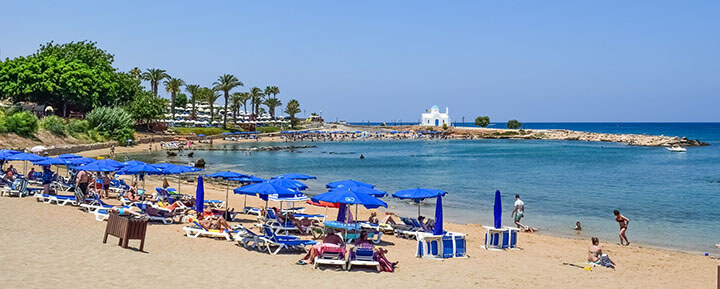 Cyprus is a favorite year-round beach holiday destination. Although the winter months are much quieter, and you won't see many locals on the beach, foreigners still find the climate amicable for sunbathing during many of the winter months.
It should be noted that some beaches have strong currents, and so care should be taken to look for warning signs before swimming.
Beach Availability
In 2017 Cyprus was awarded a record 63 beaches and 1 Marina with Blue Flag status. Cyprus also has some of the cleanest coastal bathing water in Europe. Beaches vary from being small quiet shingle beaches to top-rated long sandy beaches.
Disabled Access
There are currently 40 beaches which have facilities and access for handicapped / disabled people, although these facilities are not available during the winter months.
Lifeguards and Safety
Blue Flag beaches must adhere to the safety requirement of providing sufficient lifeguards or lifesaving equipment to ensure response to an emergency anywhere on the Blue Flag beach.
This feature is usually only provided only during the summer months, and generally between the hours of 09:00 am to 19:00 pm.
As well as this, recreational activities on the beach must not endanger any beach user, and the access of dogs and domestic animals to the beach must be restricted and controlled.
Dog-Friendly Beaches
Cyprus does not allow dogs onto beaches at any time, accept on officially designated dog beaches. So far (July 2017) beaches officially designated as dog-friendly are:
The beach Steratzia located within the boundaries of the Community Council of Kato Pyrgos, Nicosia District.
The beach Kasianes location (Spyros Beach) south of Larnaca airport, within the municipal limits of Larnaka, Larnaca District.
The beach north of Paphos airport, in the estuary Ezousa, within the limits of the Community Council Acheleia of Pafos.
The beach Pitili area east of Platania estuary, within the limits of the Community Council of Neo Chorio of Pafos.
The beach location Karavopetra southeast of wastewater treatment plant of S.A.L.A., within the limits of the Community Council Monagroulli of Limassol.
The beach Prolimnos located west of Pissouri, within the limits of the Community Council of Pissouri, Limassol Municipality.
Cyprus Beach Activities
There are many beach and water activities available, but these are mostly only during the summer months of May to October.
Below is a list of most of the beach/water activities that you will find available in Cyprus. However, not all beaches will offer them, and not all activities will be available at any one beach.
Sunbathing and swimming
Parasailing, paragliding, kite-surfing
Snorkeling and scuba diving.
Speed boating, dinghy sailing, and canoeing
Water ski and jet ski
Banana boat ride and tube rides
Relaxing boat cruises, party boat cruises
Sea fishing trips, yacht trips, and glass-bottomed boat trips
Submarine trips
Undersea walks
Basketball, volleyball, football and mini-football
Cyprus Water Parks
There is also a good selection of water parks around Cyprus which offer a variety of fun water slides, wave pools and chutes to keep both adults and children entertained during the hot summer months.
All water parks provide changing rooms, showers, food and drink, shops and bars, as well as lifeguards.
Fishing Trips and Boat Excursions
Sea fishing trips can be taken from most of the tourist areas, as well as leisure boat trips, party boat trips, yachting trips, glass bottom boat trips, submarine trips, and undersea walks, however many of these are restricted to the summer months only.
If you plan to live in Cyprus and you own a small vessel or recreational craft, you must register it. Read information on registering small vessels in Cyprus.
Cyprus Waterways
Cyprus has more than 100 dams. Download information about the dams of Cyprus.(in pdf format, may not be compatible with mobile devices)