There are currently 8 Citizen Service Centers in Cyprus. In Greek, they are known as KEP – Κέντρο Εξυπηρέτησης του Πολίτη. The first was opened in Nicosia on 12th December 2005, and more opened in other areas over the next few years.
The aim of these Citizen's Service Centre's is to improve the structure and operation of the public service administration. They offer, from one point of contact, multiple services, using simplified and quick procedures.
Utilising modern technology you should in most cases be able to receive services immediately. Where a direct provision of the service is not possible, the center will undertake the whole process on your behalf.
This means that the center processes the documents, without the need for you to visit multiple government organizations. There is also a Pancyprian customer service number that you can call from all over Cyprus. Just dial 1434.
Services are provided on behalf of 6 government departments, although a few services may not be available at all Service Centers.
The government departments are:
Road Transport Department
Department of Social Insurance
Grants and Allowances Service of the Ministry of Finance
Civil Registry and Migration (services that are provided by District Administrations)
Ministry of Health (medical card, European Health Insurance Card)
Land and Surveys Department (copies of cadastral plans)
---
Using a Citizens Service Center
We visited a Citizens Service Center in Limassol to see how they operated. It seemed to be somewhat busy with mostly Cypriot inquirers.
Looking around, we noticed that all information booklets and leaflets are only available in Greek. However, the lady at the front desk was accommodating and spoke reasonably good English.
Although there was only one lady working the front desk, we did see around 12 staff behind the scenes, so one assume these places are always busy.
We recommend trying your local Citizens Service Center first, to save queuing at several government departments. Perhaps you could write to us and let us know how you got on, and if they provide a worthwhile service.
*Update July 2017: We have had several reasons over the past year to visit the citizen's service center, and we can honestly say that they are swamped. However, they are accommodating and knowledgeable.
This is a far better way to deal with your official documents etc. rather than visiting the actual government departments. We also noted that most services could only be paid for in cash, not credit card.
---
Services Provided by the Centers
Below are examples of the services that the Centers say they provide to citizens:-
(I) Issuing of certificates and other documents
Birth certificate
Identity Card
Permanent Residence certificate
Driving license
International driving license
Motor vehicle immobilization
Road tax license
Social Insurance Contributions Record
Certificates to those insured under the Social Insurance Scheme
European Health Insurance Card
(II) Submission of applications for:
Passport
Refugee identity card
Registration in the electoral register/ change of residence address of electors
Grants, allowances, benefits, and pensions, such as:

Student grant
Child allowance
Mother allowance
Sickness benefit
Maternity allowance
Marriage grant
Maternity grant
Employment Injury benefit
Old age pension, social pension, invalidity pension, etc.
Internet access
Internet access is provided to citizens visiting the Centres, so that they may search for information and submit, where possible, applications to government organizations via the internet.
---
Locations for Citizens Service Centres
Here are the addresses and contact details of all the Citizens Service Centres in Cyprus.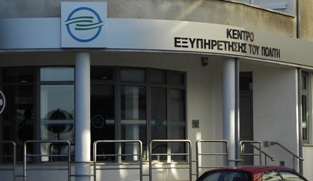 Limassol CSC
21 Spyrou Araouzou Street
3036
Limassol
Tel: 25829129
E-mail: [email protected]
Nicosia CSC
George Seferi Street
2415 Engomi
Nicosia
Tel: 22446686
E-mail: [email protected]
Nicosia CSC 2
36 Makarios Avenue
1065
Nicosia
Tel: 22419189 / 22419190
E-mail: [email protected]
Ammochostos (Famagusta)
83 Eleftherias Street
Dherynia
Tel: 23300300
E-mail: [email protected]
Polis Chrysochous CSC
1 Evagoras Pallikarides Street
8820
Polis Chrysochous
Tel: 26821888
E-mail: [email protected]
Pelendri CSC
70 Arch. Makarios the 3rd Street
4878
Pelendri
Tel: 25813400
E-mail: [email protected]
Larnaka CSC
42 Spyrou Kyprianou Ave
6051
Larnaca
Tel: 24815555
E-mail: [email protected]
Paphos CSC
62, Elefterios Venizelos Avenue
8021
Paphos
Tel: 26 822400
Email: [email protected]