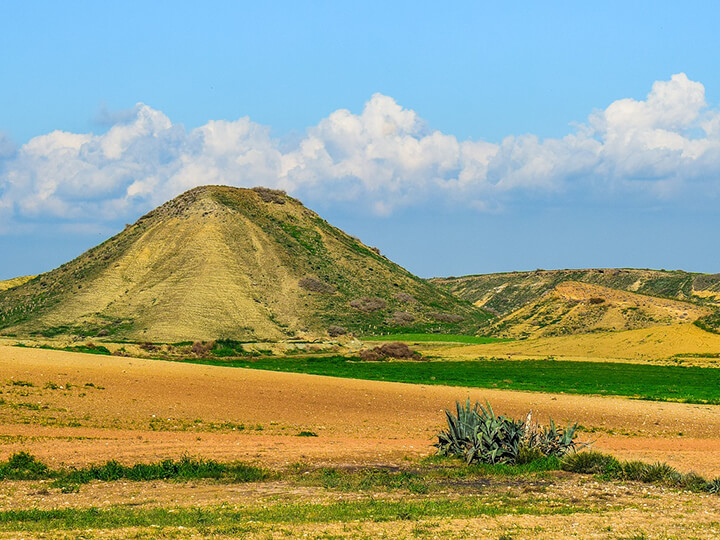 Southeast of Greece, the Republic of Cyprus is a gorgeous island to visit in the Eastern Mediterranean. Full of ancient history and delicious wines, Cyprus has something for everyone. However, it's important to stay safe while on vacation, and that includes familiarizing yourself with the wildlife of the area. If you've been bitten by the travel bug, but don't want to get bitten by any snakes in Cyprus, keep reading.
While Cyprus is only an island of around 1 million people or so, there's ten known species of snakes that inhabit the island. There are only two species that are native to Cyprus, but there may be smaller colonies of other snake species. While the snakes obviously don't swim to Cyprus, they hitch rides on shipping containers from North Africa and the Middle East.
The following are the snakes you might encounter on your trip to Cyprus:
Snakes Found in Cyprus
---
Large Whip Snake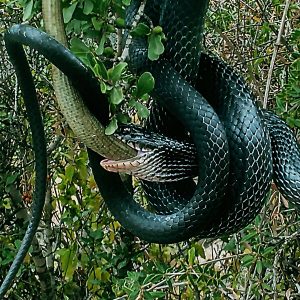 The first snake, and definitely the most common, is the Large Whip Snake (Dolichophis jugularis). This snake can be seen crossing the roads from time to time, which can prompt locals to run them over out of fear.
Fortunately, the Whip Snake is scared of humans and will try and get away from you as quickly as possible. Even better, the Large Whip Snake is non-venomous and is only interested in eating smaller snakes, rodents, and insects.
The Large Whip Snake is found all over Cyprus and remains Europe's longest snake, measuring in a three meters long.
---
Coin Snake
The Coin-marked snake (Hemorrhois nummifer), or the Ravergier's whip snake, is another snake found on Cyprus, but is completely harmless to humans. It has a greyish-brown body and markings on its back that resemble coins.
Unfortunately, it looks like a poisonous viper found on the island, so people remain fearful. Much like the Large Whip Snake, it feeds on common household pests like rodents and insects.
Be sure not to disturb the coin snake, as it can become aggressive when threatened and the bites can hurt. However, it is not venomous and will not kill you.
---
Cyprus Whip Snake
The Cyprus Whip Snake (Hierophis cypriensis) is one of the two species native to Cyprus, and is very rare. Much like the coin-marked snake, it will attack when provoked, so it's best to leave them alone.
This snake is around 1 meter long, with an olive brown, black brown, or black body. It should be noted that all of the whip snakes on the island can climb vertically, and are adept at climbing over walls.
---
Dwarf snake / Worm Snake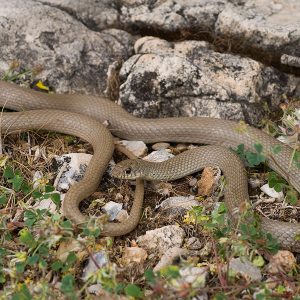 The Dwarf snake (Eirenis modestus) is small like its name suggests. This snake is pencil thin, short, and harmless.
A reddish-brown or yellowish-brown color, the dwarf snake likes to hide under rocks all day, which makes the likelihood of seeing one unlikely.
---
Worm Snake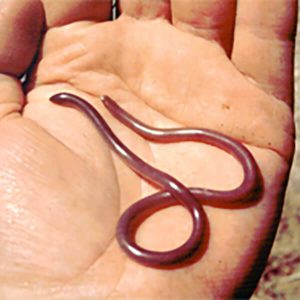 Similarly to the dwarf snake, the worm snake (resembles an earthworm in both color and size), is rarely seen and is not harmless to human.
The worm snake (Xerotyphlops vermicularis) lives underground and is not typically seen by humans.
---
Dahl's Whip Snake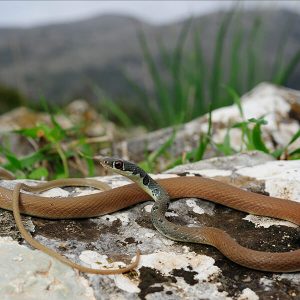 The Dahl whip snake (Platyceps najadum dahli) is light brown or pale pink, and is not harmful to human beings.
This type of whip snake likes to hang out in the scrubland of Cyprus.
---
Cyprus Grass Snake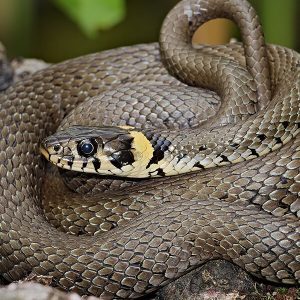 The Cyprus Grass Snake (Natrix natrix cypriaca) is another harmless snake, but is found near water and feeds on animals like frogs.
The grass snake is very rare and is light brown in color.
---
Now to the fun part, the snakes that are actually venomous. However, only one snake on Cyprus is deadly to humans.
Montpellier snake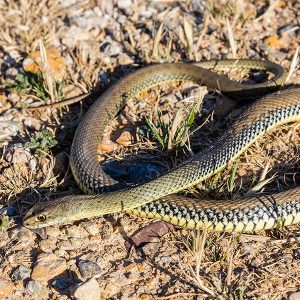 The Montpellier snake (Malpolon monspessulanus insignitus), while it does carry venom, is not harmful to humans. This is because it doesn't have enough venom to hurt a human being.
The Montpellier snake is greenish-gray or brown and can grow to about two meters in length. If bitten by a Montpellier snake, you should seek medical attention, as the bite can swell quite a bit.
---
European cat snake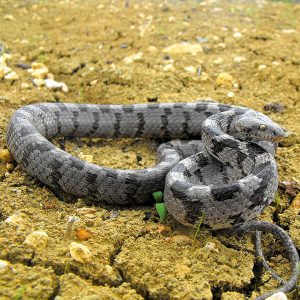 The next venomous (but not really) snake is the gray-brown European cat snake (Telescopus fallax cyprianus), which is found in Cyprus. This snake is nocturnal and is almost never seen during the day.
The cat snake has backward facing fangs that make it very difficult to bite human beings. It also hardly injects venom when defending itself and the venom is not enough to kill a human, so it's not really much of an issue.
---
Cyprian blunt-nosed viper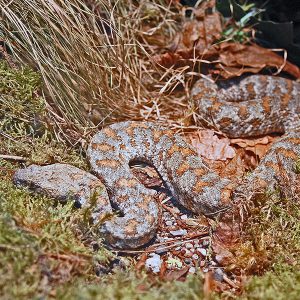 Now on to the only one you could plausibly have to worry about ; the Cyprian blunt-nosed viper (Macrovipera lebetina lebetina). The blunt-nosed viper, also known as the Levantine viper, looks like your stereotypical viper.
It has a very triangular head, along with a shorter, fat body. The blunt-nosed viper is yellowish-grey or light brown in color. This snake moves slowly and is mostly found near water beds in North Cyprus.
It can sometimes be found in swimming pools. Only 20 people have been bitten in the past 15 years, with one fatality. All medical centers and hospitals in Cyprus stock the anti-venom, so you will be fine if you seek proper medical attention.
Conclusion
Overall, you don't really have much to worry about in Cyprus when it comes to snakes. All species of snakes on the island are much more afraid of you than you are of them, and both parties do best when they leave each other alone.
If a snake is in your path while doing an activity like hiking, it's best to find a different route. If you're that paranoid of snakes, plan your trip to Cyprus outside of the month of May, because that's breeding season.