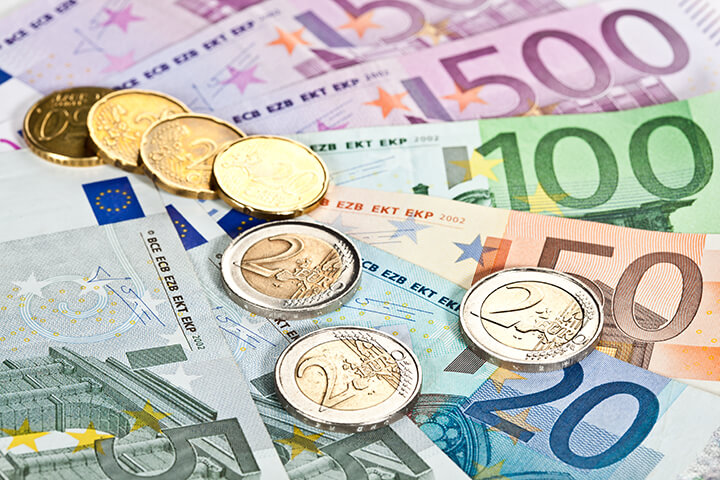 Since the 1st January 2008, the official Cyprus currency is the Euro €. Banks and retail establishments will no longer accept the old Cyprus pounds currency as legal tender.
However, the Central Bank of Cyprus will exchange Cyprus coins for Euros up until 31st December 2009, and Pound notes for Euros until 31 December 2017. The conversion rate between the euro and the Cyprus pound was set at CY£0,585274.
You can find the Central Bank of Cyprus at 80, Kennedy Avenue, CY-1076 Nicosia, or Telephone +357 22 71 41 00.
The euro notes do not have any national element to Cyprus as all Euro notes are the same throughout Europe. The notes come in denominations of 5, 10, 20, 50, 100, 200 and 500 euros. Each has a different color and size. The larger the denomination, the larger the note. See picture above.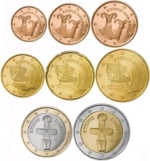 The euro coins do have a national element for each country (See picture right). For Cyprus, there are three.
On the smaller 1, 2 and 5 cent coins depict the Cyprus Mouflon. The 10, 20 and 50 cent coins depict the ancient ship of Kyrenia. While the largest of the coins, the 1 and 2 euro coins depict the Pomos cross.
The common side of all euro coins bears their denomination.
The Cyprus 2 euro coin also won the 'Best Trade Coin' award in 2009, which was organized by the American publisher of 'World Coin News.' According to the judges, the coin possesses all-around appeal both from the aesthetic and commercial viewpoints, and best meets the primary considerations of actual circulation as a monetary unit.
Exchanging Currencies
It's easy to find currency exchange outlets in Cyprus, in banks, or many hotels and shops, especially in tourist areas.
It's advisable if you are arriving on holiday to bring a few euros with you, just in case you visit on a long holiday weekend such as Easter, when it may be more challenging to get currency exchanged. You can then swap the rest of your money as and when needed throughout your holiday time.
Large Money Transfers
If you need to send a significant amount of money to Cyprus to be exchanged to euros, for instance for a property purchase, then it is easy to do so via International bank transfer. There are also licensed foreign currency exchange broker companies in Cyprus that specialize in foreign currency transfers and may offer you a better rate of exchange than the banks
Before transferring any substantial amount of money, it is advisable to check out charges and rate of exchange first to keep your costs as low as possible. Some banks have significantly increased fees, so look around for your best option.
You should ensure that you receive the commercial rate of exchange and not the tourist rate of exchange.